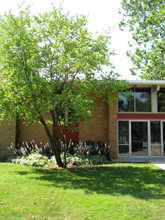 We believe that the most important mission is the one we live out daily as faithful disciples of Christ, engaged in the schools and marketplaces of a broken world in desperate need of Christ's light. Still, we are on mission together, and these are some of our regular practices that keep the mission ever before us:
Local Mission
Sunday Morning Worship


10am each Sunday. Come worship with us.

Neighborhood Unity Dinner


The Last Wednesday of each month (Jan-Oct), we offer a free meal to everyone in the community. 5pm-8pm. Come and eat (or come and grab dinner to go).

Halloween Neighborhood Giveaway (October 31)


With hundreds of kids and parents walking by BWCC on a cold late October night, we offer hot dogs, hot cider, coffee and candy to passersby with warm smiles, handshakes and perhaps even a few spontaneous songs!
Local Ministry Partners
Habitat for Humanity Lansing - In 2014, we began a partnership with Habitat for Humanity Lansing. Our 2013 Mission Trip to Guatemala got us in the building mindset, and we believe Habitat gives us a great opportunity to build for folks right here in the Lansing area, engaging in a long-term ministry and investment in loving our neighbors here in mid-Michigan!
Christian Services - We are a Network Church in the Christian Services - Love INC system, and we are delighted to support this vital ministry in the Lansing area in whatever way we can!
Shared Pregnancy Women's Center


Located in the heart of Lansing, is a non-profit Christian ministry helping everyone who walks through the door or calls. They are committed to counseling, education, referrals and material support for women facing unexpected or challenging pregnancies.
Global Mission